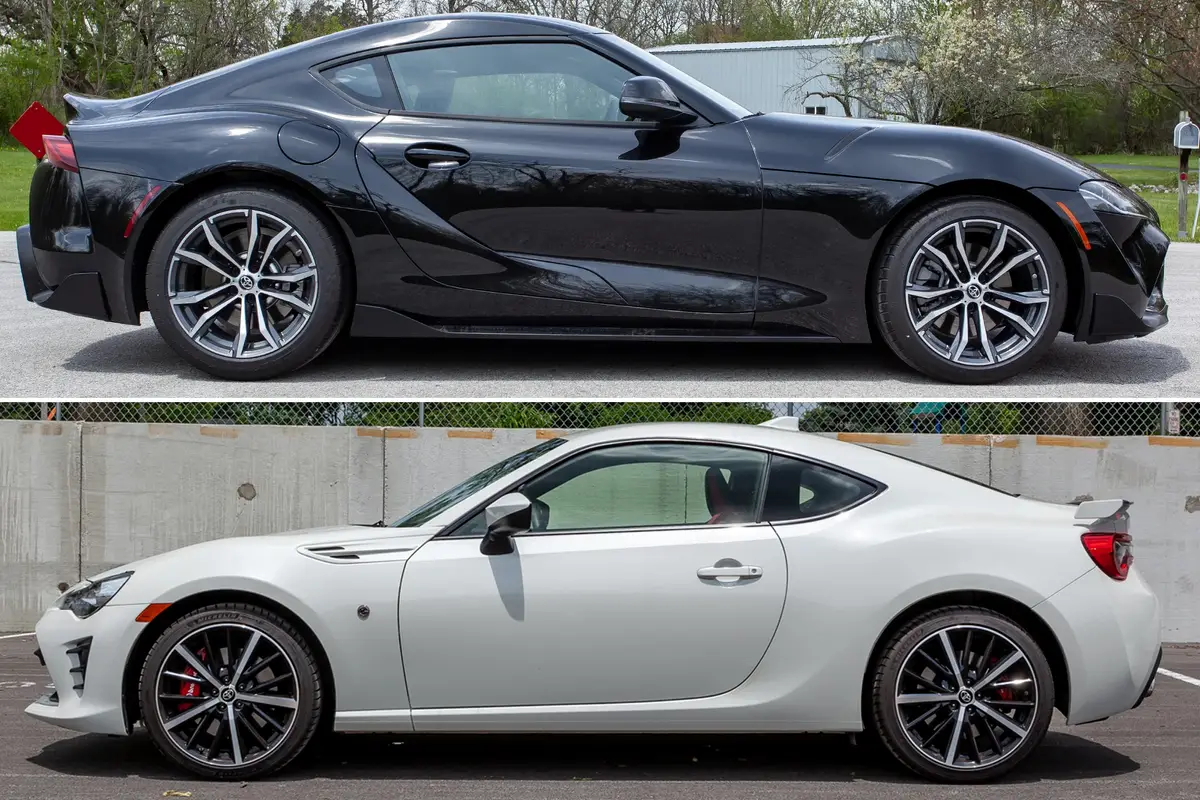 It's not unheard of for a nonluxury automaker to have two performance cars in its showrooms: Chevrolet Camaro and Corvette, Nissan 370Z and GT-R, Ford Mustang and GT. But it is a bit odd for the Toyota GR Supra 2.0 and Toyota 86 to coexist as front-engine, rear-wheel-drive four-cylinder coupes with similar proportions. Said to bridge the gap between the 86 and six-cylinder Supra, the Supra 2.0 costs quite a bit less than its 3.0-liter sibling. I recently drove the new four-cylinder 2021 Supra and a well-equipped Toyota 86, the GT with TRD Handling Package, to figure out how Toyota's four-cylinder sports cars compare.
Related: 2021 Toyota Supra Review: More, and Less, Power Make Up Sophomore Changes
One way they're not close, however, is in starting price: The Supra 2.0 starts at nearly $16,000 more than an entry-level 86 ($43,945 versus $28,015, each including destination). Beyond price, the Toyota 86 and Supra 2.0 couldn't be more different in how they drive — and I'm not sure one of them hits the mark for a sports car.
Power!
The Supra 2.0 has the power, even in four-cylinder trim, with 255 horsepower and 295 pounds-feet of torque. That may seem underwhelming, but the Supra gets up and goes, hitting 60 mph in an impressive manufacturer-estimated 5.0 seconds (versus 3.9 seconds for the 382-hp Supra 3.0). This isn't surprising considering the source of the Supra's turbocharged engines is BMW, whose modestly rated engines have still made for brisk acceleration in our testing. With this potent, responsive four-cylinder, the Supra delivers acceleration goodies the poky 86, related Subaru BRZ and erstwhile Scion FR-S always lacked. The 86's horizontally opposed 2.0-liter four-cylinder makes 205 hp when paired with the manual transmission, but it also has a barely perceivable 156 pounds-feet of torque, which is 139 pounds-feet less than the Supra 2.0. In other words, the latter Toyota has 89% more torque but just 13% more curb weight.
Related: Compare The Toyota 86 GT and Toyota Supra 2.0 Specifications
Otherwise, the Supra's go-go experience is fairly lackluster, with an eight-speed automatic that's proficient but somewhat lifeless compared with the engaging, precise six-speed manual in the 86 TRD. Make no mistake, the Supra's eight-speed is quick to pick the right gear and speed through upshifts and downshifts, but Toyota offers no manual transmission in any Supra, which is actually a trendy choice. I'd prefer no manual to a bad one, but there's no such concern in the 86, which has one of the best manual-shifting experiences in the game. (We also know the 86's six-speed automatic is not the best way to get an 86, unless you want to be outrun by a minivan.)
Also numbing the Supra 2.0's experience is that the four-cylinder engine makes few noises under the hood or out the tailpipes. Its muted presence is great for a Bavarian sedan but less ideal for a sports car. The 86 TRD I tested had optional TRD-equipped pipes that make for a mellow but aggressive tone. Plus, it routes engine noise to the cabin mechanically — versus artificially, as the Supra does, so I felt more connected to the engine, however poky it may've been. (For how critical I sound about the 86's power, note that it was enough for us to name the then-Scion FR-S and Subaru BRZ our favorite car of 2013, and we owned a BRZ for a year that I still hold in high regard.)
How the 86 and Supra 2.0 Handle Differently
The hard-edged tuning and adaptive shocks that make the six-cylinder Supra 3.0 a corner carver are curiously absent in its four-cylinder sibling, replaced by a much more compliant suspension with passive shocks that better isolates the driver from the road. Toyota intentionally tuned the Supra 2.0's suspension for comfort. In short, it's not a car I found very rewarding to drive spiritedly as I did the Supra 3.0: The 86 leans more toward the sharpness of the Supra 3.0, and it's perhaps even more elevated in the granularity of steering feedback and how quickly the 86 reacts to driver inputs.
The 86's lower curb weight — in the variants I tested, it's 364 pounds lighter than the Supra 2.0 (2,817 pounds to 3,181 pounds) — helps with its eagerness, and so does the fact that the 86 TRD I tested is the epitome of factory 86 special editions. It has all the goods to make a more appropriate track-day toy versus the softer Supra 2.0, including a limited-slip differential (the Supra 2.0 has an open differential), four-piston calipers for the front brakes and four-piston calipers for the rears (the Supra 2.0 has single-piston front and rear calipers), and a tuned-up set of Sachs shocks compared with the standard 86. The 86 TRD really is the ultimate factory offering of the 86; to say its handling is buttoned up is an understatement. My test car came with grippy Michelin Pilot Sport 4 tires and optional TRD sway bars with polyurethane bushings that make the 86 a planted, sturdy handler.
If you're looking to spend miles on the open (straight) road, however, the Supra 2.0 is the way to go. The 86 TRD will do a number on your spine. Putting the ball back in the 86's court, however, is the fact that air pressure won't jackhammer your eardrums with the windows down above 40 mph, as it does in  the Supra.
Matters of Money
Toyota partnered with Subaru for the 86 and BMW for the Supra, which explains the near-$16,000 difference in starting prices. My 86 test car was kitted to almost $35,000, which shrunk the gap between it and the entry-level Supra 2.0 to only $9,000. Throw this into any online discussion forum and commenters would proclaim you could put a lot of power into an 86 with that savings, bruh.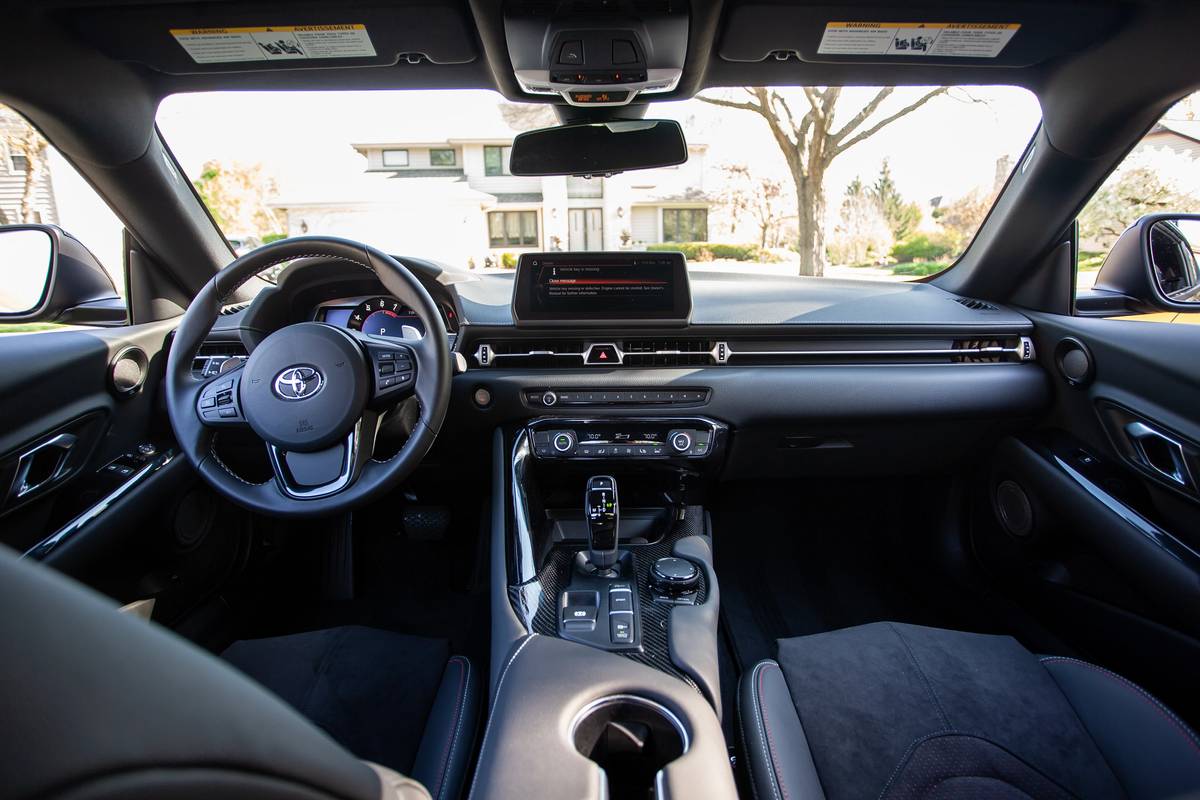 But you get more than power in the Supra 2.0. Toyota's larger sports car is filled with BMW-level materials quality and higher-tech features. The 86 lacks any advanced driver-assistance tech, such as adaptive cruise control, blind spot monitoring, rear cross-traffic alert and parking sensors. It also lacks wireless Apple CarPlay, which the Supra offers in the $3,485 Safety & Technology Package that includes adaptive cruise control, blind spot monitoring, rear cross-traffic alert, parking sensors, navigation, wireless Apple CarPlay and upgraded JBL stereo. The 86 also lacks forward collision warning or automatic emergency braking, both features standard on the Supra and many other Toyotas. I do like the 86's four-seater configuration and a trunk with a folding backseat (as advertised, I've fit four tires in the back of one), which makes it a bit more usable than the two-seat Supra's hatchback configuration.
More From Cars.com:
2021 Toyota Supra Makes a Power Play

Compare Trims on the 2021 Toyota Supra

2017 Toyota 86 Review: First Drive

Would We Buy a 2013 Subaru BRZ Again?
If there's one thing I learned while driving these two four-cylinder Toyota coupes, it's that there's certainly a place for both in Toyota's lineup because they drive so differently. And if you're an 86, BRZ or FR-S owner who swooned at the prospect of a more affordable Supra, then continue to save up for the Supra 3.0 because the Supra 2.0 is more of a sporty car than a sports car. On the plus side, the changes for 2021 mean a 2020 Supra that came only with the fiery six-cylinder might take a big enough depreciation hit to make a 2020 example more affordable than imagined.
Cars.com's Editorial department is your source for automotive news and reviews. In line with Cars.com's long-standing ethics policy, editors and reviewers don't accept gifts or free trips from automakers. The Editorial department is independent of Cars.com's advertising, sales and sponsored content departments.
Source: Read Full Article