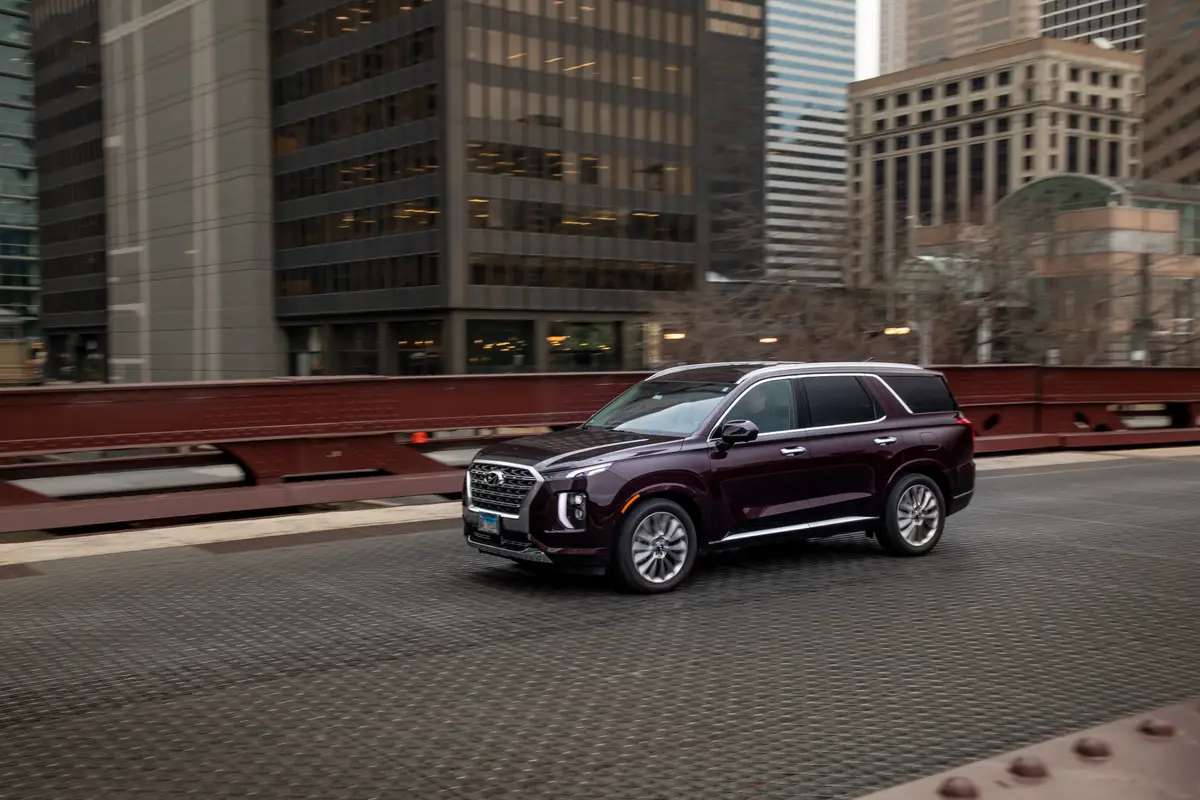 It's been roughly a year since we bought our Best of 2020-winning 2020 Hyundai Palisade Limited. The SUV racked up relatively few miles once the COVID-19 pandemic grounded much travel, and a good chunk of our subsequent ownership was spent dealing with a malodorous mystery documented in three parts: Read Part I, Part II and Part III.
Related: 2020 Hyundai Palisade Car Smell Investigation Part 3: Case Closed?
We had to replace the windshield this spring, too. But we also had some good times with the Palisade: It went to Canada in a snowstorm just so three of us could watch "Cats," served dutifully on multiple family road trips and even taught us something. In asking our staff to reflect on a year with the Palisade, the comments were mostly positive, though everyone had at least a qualifier related to The Smell. 
How Much Did the Palisade Cost to Own for a Year?
Gas costs for the year totaled $1,313 over some 11,000 miles of driving. Replacing the windshield — another seemingly widespread Palisade issue based on owner feedback — after a rock chip turned into a growing crack cost us our $1,000 insurance deductible, and the first of two regular service appointments cost $49.59 (the second service, which took place at the dealership where we purchased the Palisade, was free as part of our purchase). 
Total cost of ownership — excluding  tolls, road-trip snacks, insurance and whatever individuals spent to try to combat the smell — was $2,363.
You Only Drove It 11,000 Miles?
Unfortunately, yes. More than one staffer had visions of the Palisade topping our 2016 Volvo XC90's 22,000-plus miles … and then COVID-19 happened with stay-at-home orders and so on. Relieved of our daily commutes, the Palisade sat parked for much of the year.
And then the Palisade started to stink. Literally. The smell rendered it undrivable for a portion of our staff, and we switched our focus from trying to rack up miles to figuring out what was wrong. Multiple trips to the dealership and six weeks of inactivity while a dealership tried a variety of treatments before eventually replacing the head restraints meant that after our fill-up on Aug. 24, the Palisade wouldn't need gas again until Nov. 16. We still hadn't hit 10,000 miles at that point, either.
What About the Fuel Economy?
In our documented 10,926 miles thus far — mileage at our last fill-up, as of this writing — we spent that $1,313 on some 534 gallons of gas, for a calculated fuel economy of about 20.5 mpg. That's fairly close to the AWD Palisade's EPA combined fuel economy rating of 21 mpg, and given the amount of idling our example did for a variety of testing — smells and otherwise — that doesn't seem that bad. By our calculations, we spent $2.46 per gallon.
After a Year, What Does Our Staff Think?
I enjoyed my time behind the wheel and inside the Palisade. It's spacious, comfortable and loaded with easy-to-use technology that actually improves the driving experience — especially the blind spot cameras and intuitive touchscreen.
But the smell incident and the windshield replacement make me think buyers might want to skip the 2020 model and steer themselves toward a 2021 Palisade, which should have at least one of those issues resolved from the get-go. I should note here that I was never that personally offended by the smell, but I'm also a single guy who lives in a carpeted apartment with a dog, and I've previously lived in a fraternity house. My sense of smell is not … sensitive.
As for the rest of our staff:
"I'm really torn on whether I'd purchase the Palisade again, and that's likely because I didn't experience just how stinky it was. Because of COVID-19, the editorial staff has been minimizing the sharing of vehicles, and that included our Palisade. 
"The Palisade had enough luxurious touches in it that driving it remained a pleasure. The interior looks fantastic, and the exterior is a showstopper. I'd be willing to take a risk and buy the Palisade again, especially now that Hyundai has addressed the root cause of the nasty smell that plagued our SUV." 
— Jenni Newman, editor in chief
"I'm on the fence. In my opinion, the Palisade delivered in every way that compelled us to award it our top honor. The problems seem to be three complaints common to other owners, or at least the vocal ones: wind noise, frequent windshield cracks and, of course, the odor problem we uncovered and reported on. I'm going to dismiss the wind noise complaint because I've never had much sympathy for owners who miss something during a test drive. Sorry, but this is different from the other two. 
"As for the windshields, which seem to crack more easily than they should (as ours did), it's easy to assume lots of internet complaints represent a design or manufacturing issue, but at this stage we don't know if the percentage is statistically valid. The fact that we even have to keep an eye on it gives pause, but we try not to jump to conclusions. 
"Then there's the odor problem. Once alerted, Hyundai did dig into the issue and take it seriously. My main hesitation, as explained in our final odor report, is that it's hard for us to accept that the head restraints alone could have caused the problem and that the fix will last — especially once warm weather returns. The original question we ask every year is if we would buy the vehicle again, and in this case we have to give two answers. For people who are considering buying a new Palisade, I see no reason to fear the odor issue because the manufacturing problem has been addressed. 
"But if you're asking if I, as an owner (perhaps influenced by other irritated owners), wish I had bought something else a year ago, the answer is yes. As journalists, we're blessed (cursed?) with the ability to understand both sides of an argument, and I definitely understand why Hyundai wouldn't proactively replace the head restraints on roughly 50,000 Palisades sold before the fix because some vehicles don't have the odor and some people don't smell it when it's there. On the other hand, the more I think about it (and hear from owners), having to go through two head-restraint treatments before receiving a set of replacements (that's three separate stays at the dealership) isn't winning Hyundai any … well … awards. There has to be a better way." 
— Joe Wiesenfelder, executive editor
"Our stretch of stank didn't bother me as much as it did certain others. I deemed the smell noticeable but tolerable, and my wife, who spent a 470-mile road trip riding shotgun after we'd diagnosed said fetidity, agreed. Lest that overshadow our year with the Palisade, let's not forget that the SUV still topped six rivals in a classwide comparison, then beat the redesigned Toyota Highlander in a head-to-head comparison four months later. Some of that's due to the Palisade's exceptional interior quality, which others will invariably leapfrog in a model year or two. 
"More enduring is the SUV's technology and user friendliness, a rare combination amid today's increasingly complex vehicles. With sideview cameras, lane-centering steering and an oversized touchscreen, the Palisade packs a long list of high-tech features. But its dummy-proof layout, from the dashboard controls to third-row access, makes none of it seem Greek. Add to that a roomy second row and workable third, and the Palisade has some enduring qualities that should stand the test of time. They certainly did in our year of ownership." 
— Kelsey Mays, assistant managing editor
"The smell issues that plagued our long-term Palisade are never good to see in a brand-new car, but they're also not a reason to completely disqualify the three-row SUV from your shopping list. The problem appears to be confined to leather-upholstered models, and some staffers (myself included) didn't notice the smell that others found offensive. Hyundai has come up with a fix to address it, but if you'd rather not risk it, there are plenty of other large SUVs to consider. Doing that, however, would mean missing out on the Palisade's spacious cabin, easy-to-use technology and upscale design." 
— Mike Hanley, senior research editor
"The Palisade is an excellent family hauler — impressive room, comfort and features — and my family of five found a lot to like about it during Cars.com's first couple of months of ownership, but unfortunately our time in it was cut short because of the smell issue and how long it took to 'fix' (we hope it's fixed, and we're still monitoring it). I found a few quirks during its extended stay with us — I prefer the related Kia Telluride's execution of the blind spot camera, for example — but overall, I'd choose it again … pending it passes the sniff test." 
— Jennifer Geiger, news editor
"For an Apple CarPlay user without a strong sense of smell — granted, the older I get, the less relative that becomes — and the staff member who wound up spending the most time behind the wheel in terms of mileage, I feel like I had a very different year in the Palisade from everyone else. I took it to grocery stores and Ikea, farms and pizza pickups (so, so much pizza), an auto show and another country — and in all that time, it did what I demanded of it with little hesitation. Shelving fit, people fit, dogs fit, CarPlay fit. I found the wind noise occasionally distracting, and the steering wheel is not as uniformly heated as I initially thought, but overall, it still strikes me as a bargain three-row family hauler for what you get, even in the top Limited trim.
"My one grievance has less to do with the Palisade and more to do with Hyundai's multimedia system, which doesn't allow for backward software compatibility. If I want to make my hearing as bad as my sense of smell using the Palisade Limited's 12-speaker Harman Kardon system, I'll do it on my terms." 
— Patrick Masterson, senior copy editor
More From Cars.com:
Is It Possible to Use an iPod in the Hyundai Palisade?

How Does the Rear Door Alert Work on Our 2020 Hyundai Palisade?

Is the Hyundai Palisade's Harman Kardon Audio System Good?

How Well Do the 2020 Hyundai Palisade's Safety and Driver-Assist Features Work?

2020 Hyundai Palisade: Testing the USB Ports — and Charging Pad
Related Video:
Cars.com's Editorial department is your source for automotive news and reviews. In line with Cars.com's long-standing ethics policy, editors and reviewers don't accept gifts or free trips from automakers. The Editorial department is independent of Cars.com's advertising, sales and sponsored content departments.
Source: Read Full Article