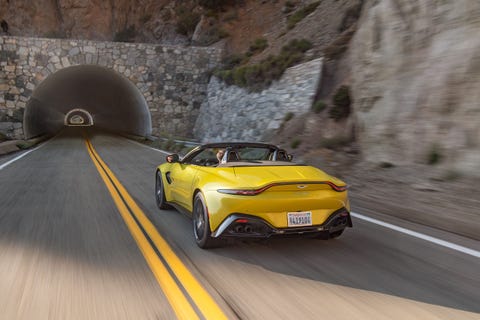 The Germans have taken over Aston Martin. They'd already taken over the drivetrains, with AMG V8s in the Vantage and DB11, as well as electronics systems throughout. Now former AMG chief, Tobias Moers, is officially ceo of the entire outfit in Gaydon. He replaced the well-regarded—and very British—Andy Palmer. Will this mean more efficiency but maybe a little less Britishness? Or will it just mean the cars start every time, even in the rain, and the company makes a profit? Hopefully the latter.
Moers was in charge at AMG as the SLS, GT and AMG One hypercar all came into being. Those are certainly admirable achievements. And I, myself, once roared across the Bonneville Salt Flats at 194 mph in an AMG GT prototype with him, while he chatted away the whole time. Then he let me drive for the return run. So he is fearless, among other traits.
So far, Moers has not made any official statement since taking over at Aston Martin Lagonda. I found one quote in the European press where he said, "I believe there is a significant opportunity to successfully deliver the planned product expansion and brand elevation." So much passion!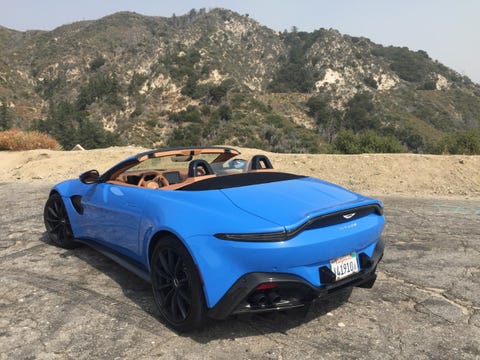 But Moers did a splendid job at AMG, turning out any number of performance Mercedes products that are loads of fun to drive, all while making piles of money for the parent company. The idea is that he will do the same for Aston Martin, which has struggled with profitability as well as with its stock price.
An official statement from Aston was only barely more passionate:
Aston Martin Lagonda's new leadership team led by CEO Tobias Moers, has taken further decisive steps to improve the sustainability and competitive position of the business. The Company continues to implement a strategy to rebalance the core business and has taken the decision to align its global pricing to give it headroom for more profitable products and variants it has planned for the future, which has seen a price realignment on certain models and derivatives in some markets.
So while we wait to drive the company-saving DBX crossover, and look further down the line for the Valhalla and Valkyrie hypercars, it seems like a good time to try out the latest Aston/AMG collaborative effort: the new Vantage Roadster.
Now, just weeks earlier I had driven the coupe version of this car, the Vantage, and rather fancied it. Its AMG V8 was indeed powerful and very quick to react to throttle inputs. Likewise, its suspension seemed to offer an immediacy not found in many of its GT competitors.
And yet when I got into the Vantage Roadster, almost identical except for the folding roof, I found it to be even more sports car-like, which shouldn't be possible should it? The 4.0-liter twin-turbo V8 felt more eager to run, the suspension even more willing to commit through corners. Could the fresh air have gotten to my head?
The AMG-sourced V8 makes the same 503 hp and 505 lb ft of torque but the roadster weighs 132 pounds more than the coupe due to the reinforcements required when you remove the roof. But in order to compensate for that extra 132 pounds, and a one-percent shift of weight balance rearward, Aston engineers re-tuned the dampers on the car "to give it the poise and support we need," said Matt Becker, director of vehicle engineering. They also increased rear roll stiffness "to give us the agility feeling of the car." They changed the suspension mounts to make sure the transmission and suspension "move in harmony." And they retuned the EPAS, electronic power-assisted steering, to make sure the steering efforts and response balance the rest of the chassis.
Taken together, those changes make for a sportier car, as I found on a few runs up and down my favorite mountain roads (before they were all on fire). I played around with the steering wheel-mounted buttons to adjust the throttle, steering and shock stiffness. While in the coupe I preferred the softest settings, in the Roadster I was a little more comfortable in the mid-range settings. Indeed, given a choice between coupe and roadster I think I'd order the Vantage Roadster—and normally I like a roof over my head. It was more fun to drive than the coupe. It dug into corners and held on better, and the V8 felt happier to run, it revved more easily, it sang.
It only takes 6.23 seconds to raise or lower the Z-folding roof, so you can be as fickle as you like with driving mode: sunshine or shade. Top up you can hit 190 mph, Aston says, top down you'll have to make do with 185. You do lose two tenths of a second 0-60, hitting that mark in 3.7 seconds, instead of 3.5 in the coupe. But I wasn't longing for more power or torque. And you do have to make do without the choice of a manual, but the dual-clutch ZF transaxle is quicker and more precise than a manual anyway.
"The Vantage roadster has lost none of the agility that the coupe has," Becker said.
Granted, the Vantage was all done long before Herr Moers came to Aston, but it has been powered by AMG drivetrains for quite some time. If Aston can keep putting out cars like this, and even an SUV that I'm going to assume will be like this, then Aston may yet survive and even thrive.
"The new Vantage Roadster is launching at the same time that the company is also bringing to market its first SUV, the five-passenger, all-wheel drive, DBX," an Aston spokesperson told me. "The company has high hopes for it and while traditionalists may decry the move to produce SUVs as un-Aston Martin, the simple fact remains that building – and more importantly selling – profit-generating SUVs allows the company to continue to produce the sportscars and GTs its best known for. Those concerned an SUV means the watering down of the brand can sleep well knowing cars like the Vantage Roadster will continue to exist, not in spite of the SUV, but because of it."
Source: Read Full Article