Engaged in a tense exchange with his engineer at the Spanish Grand Prix, Max Verstappen has reiterated that Red Bull must focus solely on their own game.
Sandwiched between the two Mercedes drivers at the Spanish Grand Prix, Verstappen was having a tough time on his first set of soft tyres.
The Dutchman asked Red Bull for new rubber, specifically the medium tyres, on several occasions as he struggle with high degradation.
Instead of getting his wish, he was informed about the wind with Red Bull wanting to leave the Dutchman out to build up a gap to the Racing Points so that he would get back out ahead of them.
He wasn't impressed.
"Do you want me to repeat it again? The [beep] tyre is dead," he said.
"You don't need to repeat it again Max," his engineer answered.
Verstappen was eventually called into the pits, swapped over to the medium tyres and came out just ahead of the Racing Point team-mates.
His engineer explained: "Obviously we were nowhere nearly undercut range to Lewis. So control the peaks early on. I'll keep you posted on Bottas' tyres."
Again, Verstappen wasn't happy with the advice he was receiving.
His response: "How about we just focus on our race, first, for a start instead of looking at Lewis? Because clearly on the soft tyre we were not as fast as them.
"So can we just make sure we do our job and let them to their job?"
Verstappen: "How about we just focus on our race first instead of looking for Lewis? Clearly on the soft tyre we are not as fast as them. Make sure we do our job, and let them do their job" ?
Red Bull: "Get your head down Max please" ?#SpanishGP ?? #F1 pic.twitter.com/IITnLWoy1d
— Formula 1 (@F1) August 16, 2020
Verstappen stood by his comment when asked about the exchange after the race.
"At the end of the day you can't control what they're doing," he said, "You can only control what we do so we just have to make sure we do the fastest strategy possible for us.
"I wanted to pit, and they didn't call me in. I was massively struggling on the tyres and I lost quite a lot of lap time over the last two laps.
"I already said on the radio, I don't care if you put me out behind the Racing Points because I will pass them easily, because we're a lot faster, especially on new tyres.
"So that was the conversation."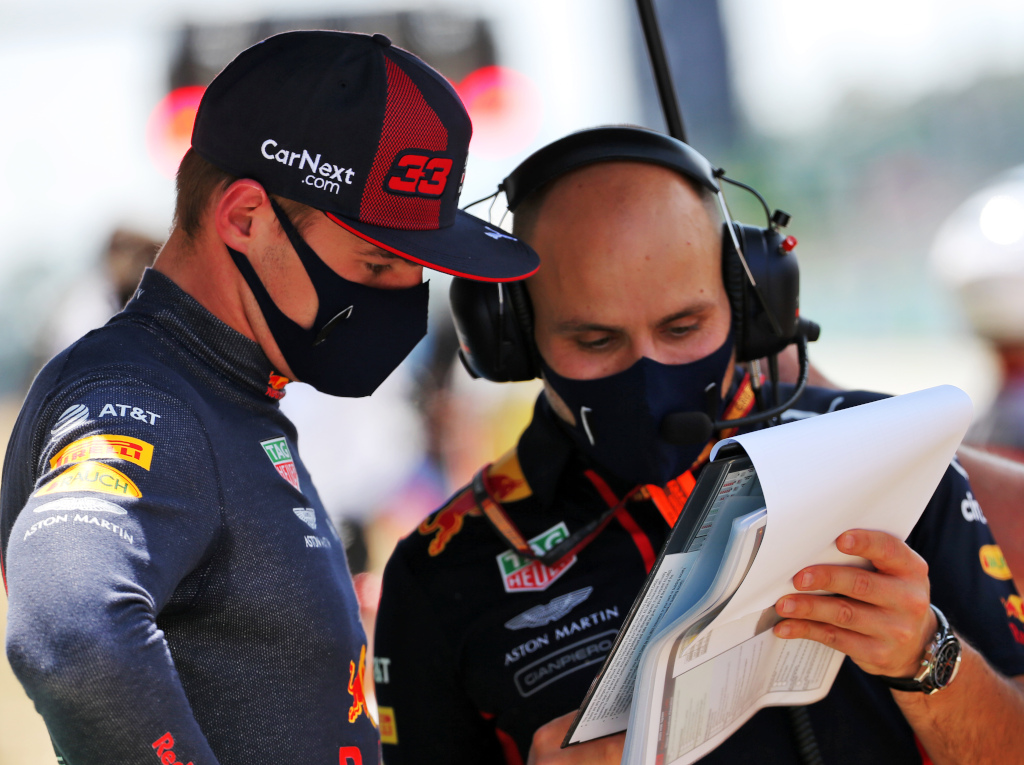 Max Verstappen and Red Bull engineer.jpg
The Red Bull driver raced his way to second place at the Barcelona circuit but was a massive 24s down on race winner Hamilton.
He said: "Clearly we were not in the race, I don't pay too much attention to it, we just focus on ourselves.
"I said in the race as well we have to focus on ourselves and not to look too much at others, what they say and what they do because at the end of the day you can not control that anyway.
"So we just have to focus on ourselves, try to improve, try to be a bit more competitive and not just rely on softer compounds or blistering. We just have to find a bit more performance in the car and the engine to be a bit more competitive."
Source: Read Full Article